On the go? Stay connected with up-to-date information through reminders and notifications.
Alert Preferences:
At the top of the screen select the

icon for Notifications and the

icon for Reminders.

Then select the gear icon on the top right corner to turn on Notifications or Reminders.

There are different types of alerts to ensure nothing gets missed.
Bubble Alert - An onscreen "pop-up" that will appear in Passare.
Text Message - A text sent directly to your phone!
Email - An email sent to your inbox.
Toggle on the alerts you wish to receive and Save.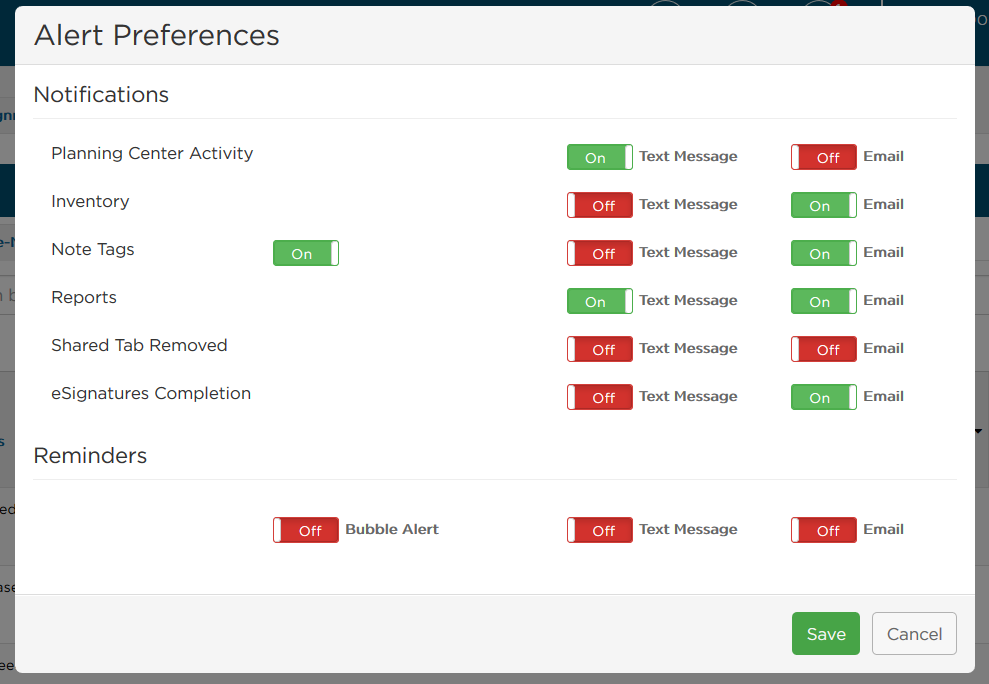 Text Alerts:
You'll need to have your mobile number entered in your profile in order to enable text alerts!

Personal numbers should be added under Mobile Phone.
These numbers WILL NOT be made public but will receive text alerts.
Be sure to Save!
Commonly Asked Questions:
What's the difference between a Reminder and a Notification?
Reminders are messages that are created by you or your colleagues. Notifications are created by Passare. Notifications give you specific system information, such as when a report is ready or if there's been any planning center activity.
Is there a charge to receive text alerts?
Text alerts are free with your Passare subscription, although normal text rates from your carrier do apply. See your mobile contract for information on your rates.
Does entering my mobile number in My Profile automatically sign me up to receive text alerts?
No, Passare will only start sending you texts once you have told it to do so. You'll need to toggle on the notifications you'd like to receive.
Need Help? Email us at support@passare.com or call 1-800-692-5111!