View, search, filter, pin, unpin and navigate your cases.
Once you're logged in, the Case Listing will be your landing page.
You'll see all cases for the organization you are signed into.
Note: Have access to multiple orgs? See how to switch orgs HERE.
Cases are in order by case created with the newest case on top.
From the Case Listing you can:
Search
Search by decedent name, case identifier, or a family member's name.
When you search a name, results will include any cases associated with the searched name.
Decedent name matches will be listed first.
Family members or other roles associated with searched name will be listed next.
Filter
Filer cases by:
Pinned
All
Pre-need
At-need
Imminent-need
Trade
Pin cases
Pin cases that are most important to you.
On the right-hand side of each case card, you'll see a pin icon.
Simply click on the pin.
Cases that are pinned, will create a personalized case listing under the Pinned tab.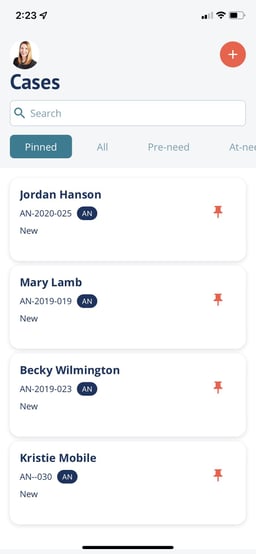 Unpin cases
Remove cases that no longer need your attention by unpinning them under the Pinned tab.
This will remove the case from the Pinned tab, but the case will still appear under the All tab.
Navigate into a case
Click on a case card to go into a case.
This will take you to the Manage page within a case.
Need Help? Email us at support@passare.com or call 1-800-692-5111.