Customize your check writing preferences to streamline your business.
Don't see this feature? Email us at support@passare.com or call 1-800-692-5111 to get this feature turned on.
Check Writing:
To get started, go to Admin > Accounting > Check Writing.

From this page, you'll customize the following sections: Check Style, Accounts, and Check Transactions.
There are several check styles to choose from, which can be seen in the screenshot below.
After you select the style, you can preview the check by selecting the Download Preview button.
If you'd like to use the same template for all branches, select Yes for Do all branches use the same check stock?

Accounts:
In this section, you can manage the bank account(s) you'll write the checks from
Select Add Account.

Fill in the basic bank information, such as address and phone number. There are several required fields, which are highlighted below.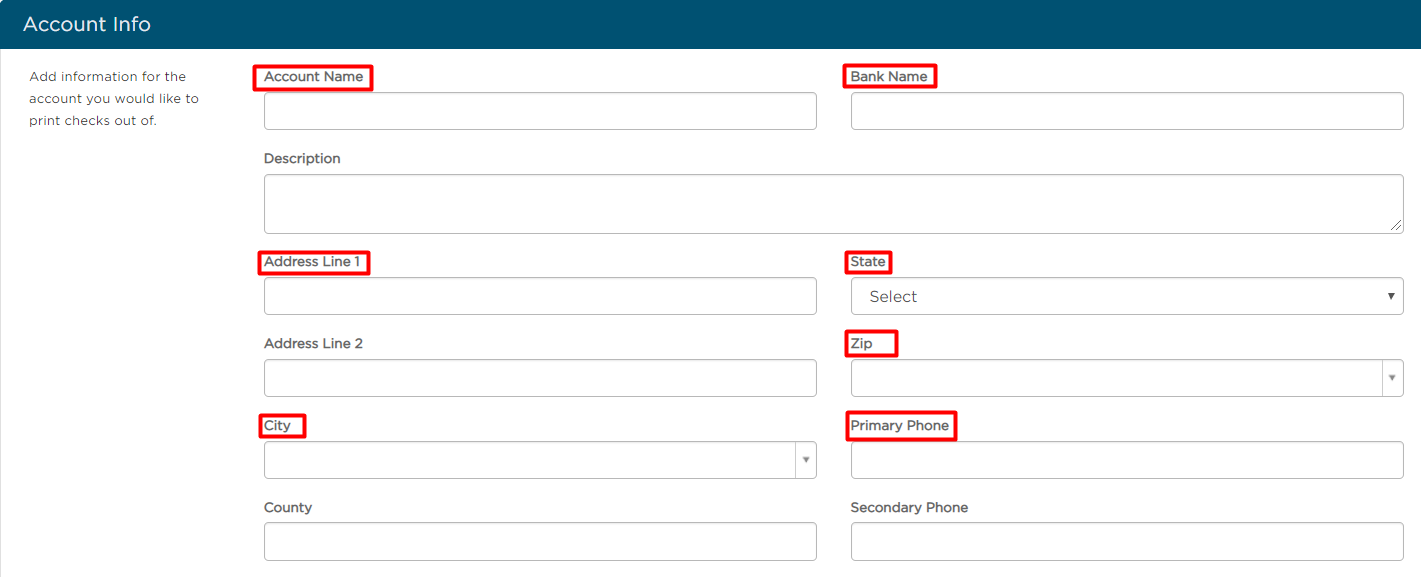 Next, you'll fill out the bank account information and designate printing preferences.
Routing Number, Bank Account Number and Check Numbering are required fields.
Check Numbering has three options:
Pre-Assigned assumes the check stock is already numbered.
Manual assumes the check stock is not numbered and will be manually entered.
Automatic assumes the check stock is not numbered but Passare will auto-fill the check number based on the number you enter in Next Check #.
If your check stock has printed routing numbers and account numbers, be sure to select NO to print routing and account numbers.
Next, select whether you want to print Bank or Branch Information.
Lastly, check the Associated Check Transactions that you would like linked to this account.
Use Associated Check Transactions to minimize the selections seen on the drop-down on the Check Writing page. If no selection is made, all transactions will be visible.

The Check Request Notification section allows you to designate a person(s) to be notified when a check is requested from the Goods & Services page.

If several bank accounts are added, you can select a Default bank for all check writing activity.

Check Transactions:
From the Check Transactions section, you can manage the financial transactions you support for check writing.
Select Add Transaction.

Enter the Check Transaction Name and select the GL Account to associate with the transaction.

Need More Information?:
Need Help? Email us at support@passare.com or call 1-800-692-5111!