A few helpful tips to provide to families to help them add documents.
Dispersed families may not always be able to get to the Funeral Home right away. Here are a few options you can offer to families to download, print, and upload documents in the Collaboration Center.
There are a wide range of tools available. We'll just take a look at the most common one available to families.
Option 1: Print & Scan
Printing:
If the family has a printer (and many printers also scan), then this should be easy. They can locate their document in the Collaboration Center under the Documents section.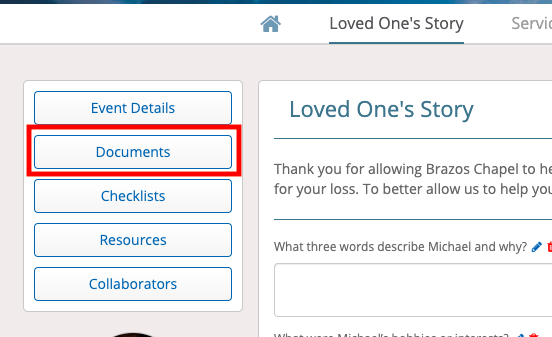 Find the document they want to download and click on it.

Depending on their settings, it will either place that document in a downloads folder on their computer or save it at the bottom of their browser as shown below.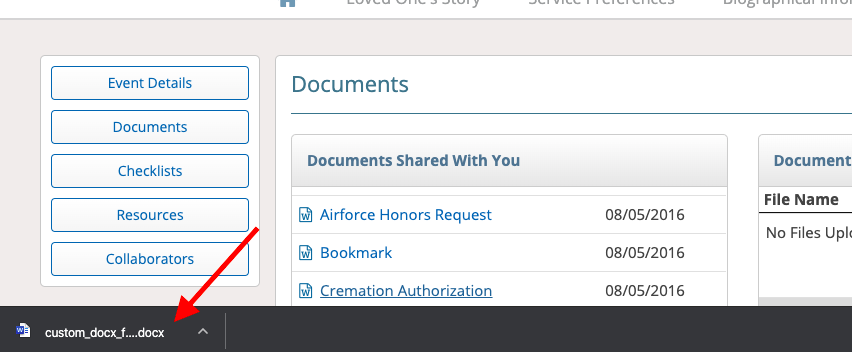 Open the document. Then select File > Print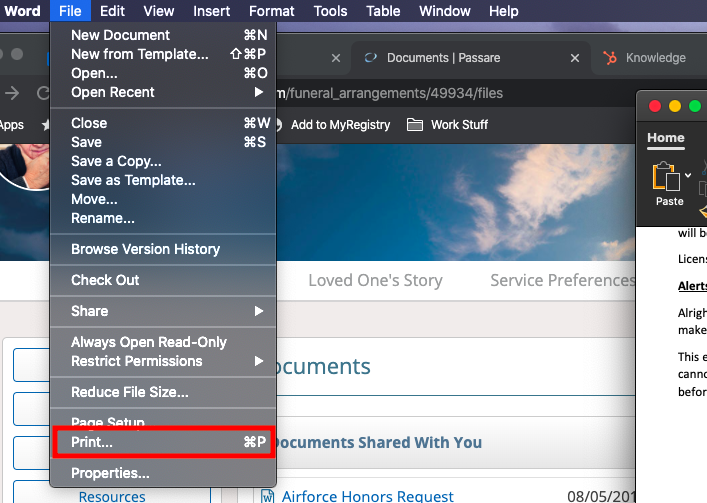 Scanning:
Once they've printed and it's signed, they'll need to follow the instructions on their printer and computer to scan their document back in.
Scanners and computers vary so widely that it's difficult to pinpoint one way to do it.
One thing you can suggest is for them to use the search function on their computer.
On a Windows computer, have them press the Windows Key

and S. This will pop up a search bar.
Then type in Scanner.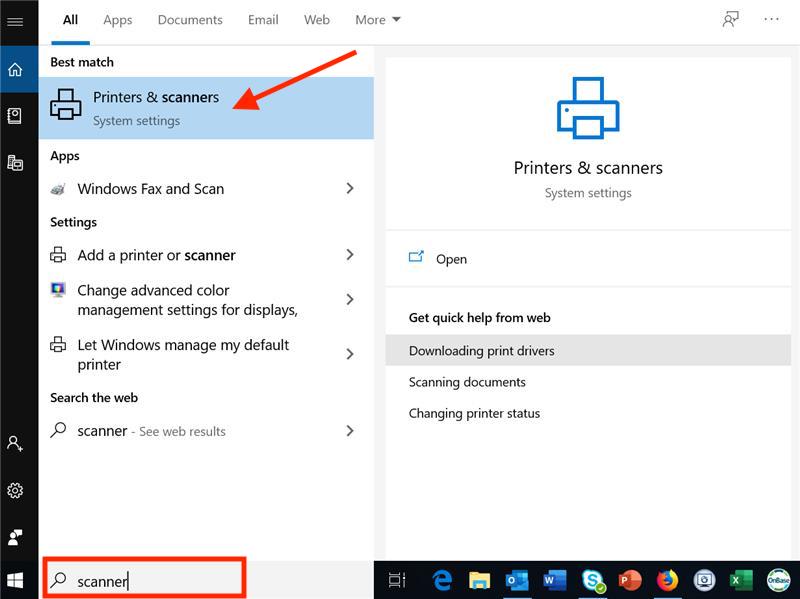 If there is a scanner available, then the option to select it should appear after selecting Printers & Scanners.
Uploading to the Collaboration Center
Have them fill out the appropriate information and follow their scanner's instructions to scan the document back in.
From there, have them go back to the Collaboration Center under documents and upload the file!
They can drag the document from their desktop and drop it or then can click Drag and Drop Files Here to Upload

Select the file from their computer.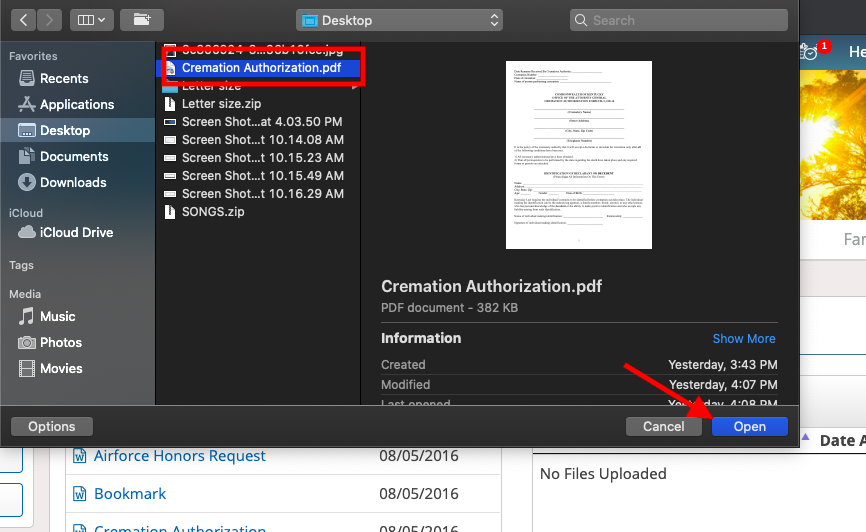 And the document will appear once it's been successfully uploaded!

Option 2: Print & Take Picture with Phone
If they do not have a scanner, there is an easy way to take a picture of the document and upload it to the Collaboration Center. We'll be showing you how to do this from an iPhone.
From the Collaboration Center in the documents section, Select Add New.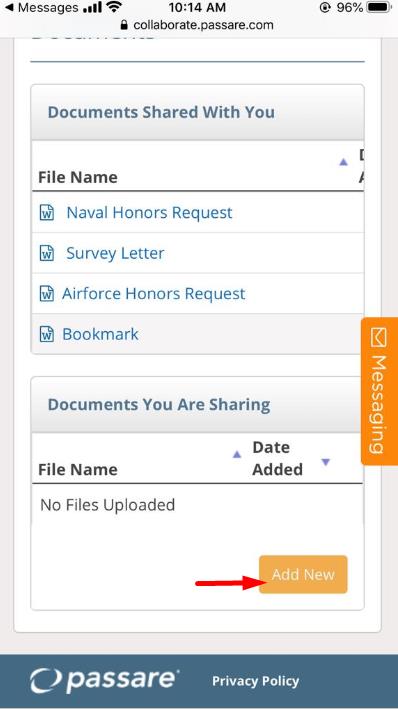 If they have not taken a picture, then they can select Take Photo or Video. If the picture has already been taken, then have them select Photo Library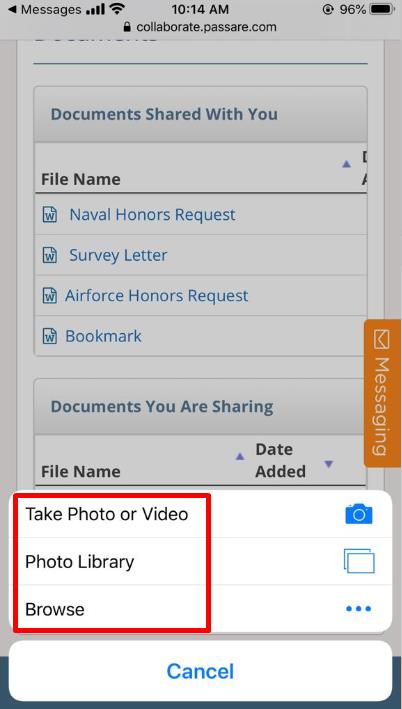 From there, they can select the right picture from their Photo Library.
After that, the document (image) should appear as successfully uploaded!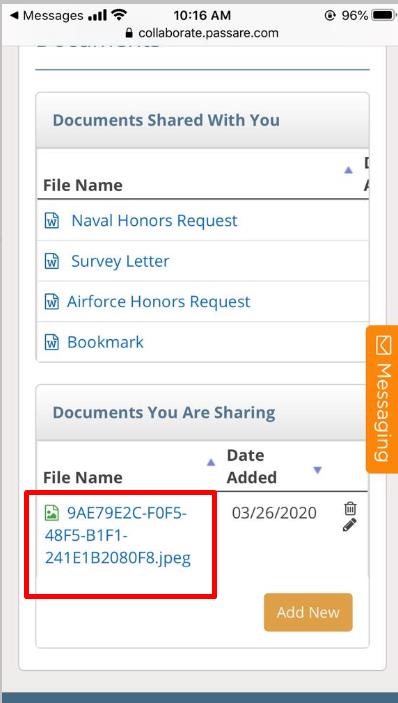 Need Help? Email us at support@passare.com or call 1-800-692-5111!