Sync your Gemini Graphics website to simplify your case management.
If you are using Gemini Graphics as your website hosting service, this integration will be an incredible benefit for you, your staff, and your families. Information entered into Passare will be synced with your Gemini Graphics website, removing the need to do double entry.
What is Gemini Graphics?
Gemini Graphics is a provider of custom websites for funeral homes. Their services include custom web design, web hosting, printed marketing communications, product design, and social media profile creation. From their site:
We bring a personal and effective approach to every project we work on, which is why small businesses such as funeral homes find our work model more like their own.
For more information, check out their website at geminigraphicsinc.com.
Helpful Tips:
Here are a few pointers about the Gemini Graphics integration:
✔️ First Name and Last Name are required fields on the Vital Statistics page for the sync to occur successfully.
✔️While the obituary is being composed, Passare will send the following default text as the obituary: "[Name] passed away on March 1, 2019. [Name]'s loved ones are composing [Names]'s obituary, which you will be able to read here."
✔️ On the initial sync, you can choose an Obituary Theme image for the Gemini Graphics website. You can also choose the Default Obituary Photograph if there is not an obituary photo in Passare. Click on the gear icon next to the Gemini Graphics sync button.

✔️The full obituary will be sent to Gemini Graphics when the Lock Obituary checkbox on the Collaboration page is checked.

✔️Only events that are noted as Public on the Funeral Options page are shared with Gemini Graphics.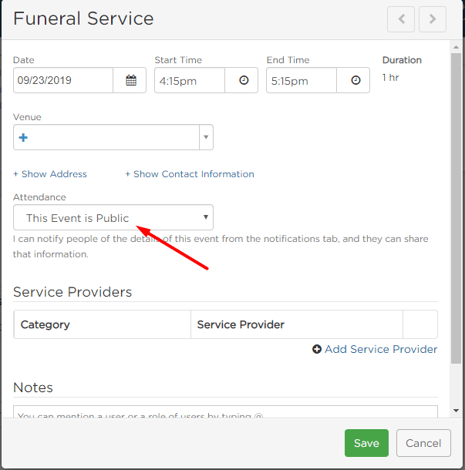 ✔️If the decedent is a Veteran and the Primary Branch of Service is selected in Passare, Gemini Graphics will display the Primary Branch of Service logo.

✔️The Disposition type will only be sent if it is Burial or Entombment.
Setting Up Your Gemini Graphics Integration:
The first step is to contact us to get this integration enabled! Send us an email at support@passare.com or call 1-800-692-5111!
Once enabled, you'll be able to easily send information from Passare to your Gemini Graphics website.
On the right-hand column under your Case Information, you'll see your available integrations. When you are ready to sync, just hit sync!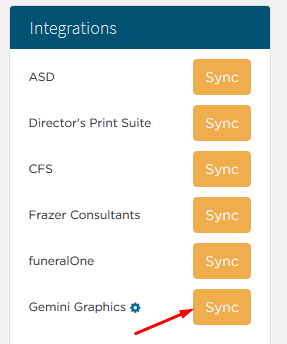 Information from the Vital Statistics Page, Obituary Page, Veteran Page, and Funeral Options Page are sent to your Gemini Graphics Website.
✨For a full list of synced information sent to Gemini Graphics, Click HERE.

Need Help? Email us at support@passare.com or call 1-800-692-5111!