Take a Passare report to send to your accounting software like QuickBooks, Sage 50, or Sage 100 Business Works.
Find your report
At the top of your screen, go to System > Reports
Under Reports, select System Reports and search for the report you'd like to run.
If you don't see your accounting exports, reach us by email or call 1-800-692-5111.

A box will appear for you to choose your report details.
The system will default to all locations, but you can run separate reports for each location.

Here's a list of the following options:
Report Format: Leave this box checked. For QuickBooks, it will always be IIF (Intuit Interchange Format). For General Accounting reports, it will be Excel
Delivery Method: Select if you'd like the report to be sent via email, sent to the Download Center, or both
Date Range, Start Date, and End Date: The report will run everything that was signed or saved as re-signed during this date range
All accounting reports are based on the signing date, and all contracts have to be signed or they won't be added as an export.
Payments are based on the date entered for the payment. If there's a concern about unexpected items prior to the start date, check the box next to Export all items up to the end date (ignores the start date).

Added To Accounting Export: If you have the Add to Accounting Export button turned on, on either your Goods & Services or Payments page, you don't have to worry about this. If you're doing this manually, you may want to check one of these boxes depending on what you want in your payments report.
Filter Items to Be Exported: 99% of the time, you'll want to select Export only un-exported items. This means you're only bringing over things that have never been exported from the system before and to ensure you aren't duplicating anything in your accounting software.
If you need to re-run a file, select Export only already-exported items.
Case: If you ever need to export just one specific case, you can do that by selecting Case and type in the specific case number.
Preview Export:
To preview the file before running the report, check Export as a preview and Run Report.
When you have Export as a preview checked, it won't flag the items as exported. You'll have to go back, uncheck this box, and run the file again to complete the export and flag the items as exported from Passare.

Save Configurations:
To save this configuration to use again, select Save Configuration
The next time, you'll be able to choose this configuration at the top of the page.

Schedule to Run Automatically:
Reports can be set to run automatically.
To do this, turn on Schedule to Run Automatically
From there you can schedule this export to run automatically on a certain day and time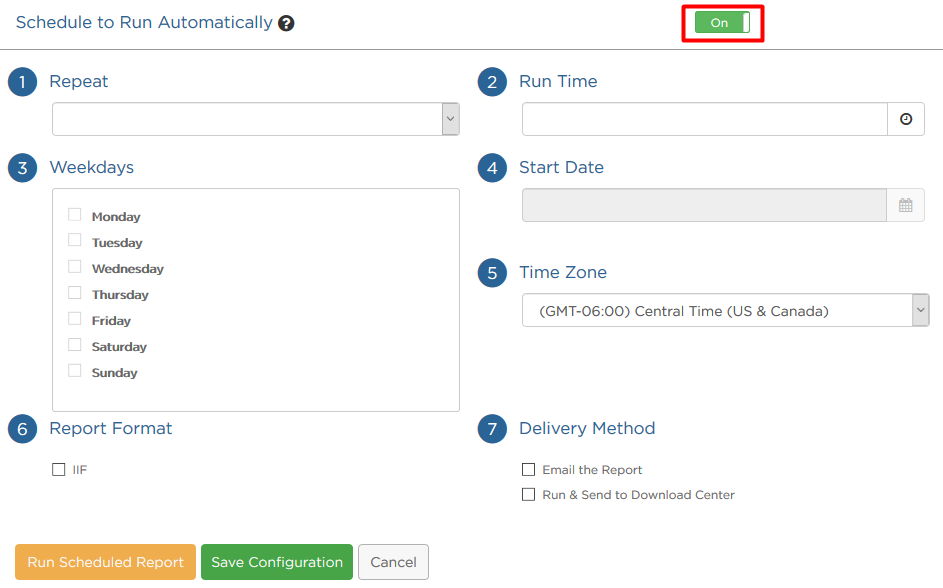 Once you're finished, select Run Report.
The report will then come through via email or the download center (Reports > Download Center), depending on what you selected.
Need Help? Email us at support@passare.com or call 1-800-692-5111!