Save time and copy the First Call, Vital Stats, Obituary, and more to another one of your locations in Passare.
This feature can only be used by Organizations that have multiple locations.
Only users with Copy and Transfer Cases permission can copy cases between locations.
Copy cases
From the Dashboard, search the Case you would like to copy/transfer.
Look for the Case Options gear icon. It's typically on the far right but you may have to scroll over.
Select Copy Case.

Select the Organization and Branch you would like to copy the case to.
Select Copy.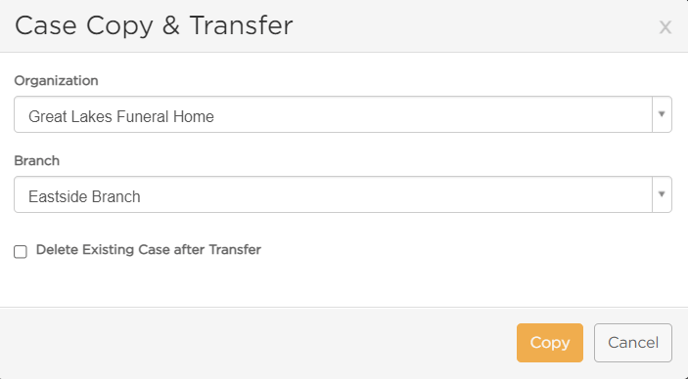 Note: We do not suggest checking the box for Delete Existing Case after Transfer at this time.
Go to the Organization you selected and double-check that the case transfer was successful.
Copied information
The following is a list of items that will automatically copy over:
First Call page
Vital Stats page
Family & Friends
Veteran Information
Disposition
Obituary text
Tracking page (Care Center)
Decedent Tracking
Manual transfer
The following information will need to be manually copied over:
Case Information sidebar (Client Service Type, Case Assigned to, etc.)
Appointments page
Obituary photo
Funeral Options
Information contained in the Planning Center
Care Center information (except for information on the Tracking page)
Goods & Services
Payments & Adjustments
Rolodex or user-specific fields
Case Files


The following information will take new data based on the new org's set up:
Once you've confirmed the information, you can delete the case from the original organization by going back to that organization's Case Listing.
Select the Case Options gear icon again and select Delete case.
Need help? Email us at support@passare.com or call 1-800-692-5111.