Creating a Case in Passare is easy! Click to watch or scroll down for step by step instructions.
Creating a Case:
After signing into Passare, click Create at the top of your screen and select the case type.
For this example, we'll select At-Need Case.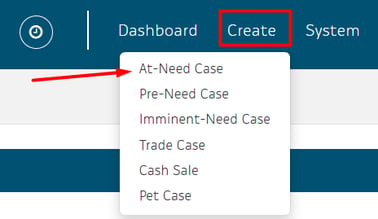 The First Call Information will appear.
Enter the decedent's First Name and Last Name. These are the only fields required to create a case in Passare!
As long as you Save you can come back at any time and add additional information.
Once you add all of the information, click Save to advance to the next page!
Note: While the First Name and Last Name are the only required fields to create a case, we recommend entering as much information as possible. What's entered here will be used to auto-populate forms, reports, and other advanced functionality.
Need More Information?
The system will guide you through various pages when creating the case. For detailed information on how to fill out each page, review the resources below:
Need Help? Email us at support@passare.com or call 1-800-692-5111!