Engage family members in the planning process even when miles separate them from their loved ones through your personalized Collaboration Center.
Often times, with miles separating family members, getting the call about the loved one's passing can be traumatic and overwhelming. The Collaboration Center closes the gap and includes family members earlier in the planning process, building trust and comfort during their trying time.
Why Use the Collaboration Center?
The Funeral Profession is rapidly changing. Consumers are more likely to go online and research your funeral home before any contact is made. The Collaboration Center is a powerful platform that not only provides a way for the family to start planning but is also a way to free up more of your time so you can connect with the family and provide resources and guidance on the grieving process.
Getting Started:
To start customizing your Collaboration Center, go to Admin > Organization > Collaboration.

From here, you will be able to customize the following sections:
Templates:
This section will include Email Templates, Obituary Templates, and Text Message Templates.
In the Email Templates, we have included examples of emails you can send to customers for the following:
Imminent Need Appointment
At-Need Collaboration Center Reminder Email
At-Need Pre-Arrangement Appointment Email

Note: These are simply guides and can be personalized by clicking into the template, making changes, and saving.
The Obituary Templates will also include a few basic obituary examples. You can add a customized template by going to Add Template. Give your template a Title and make sure to check Published under the Basic Info.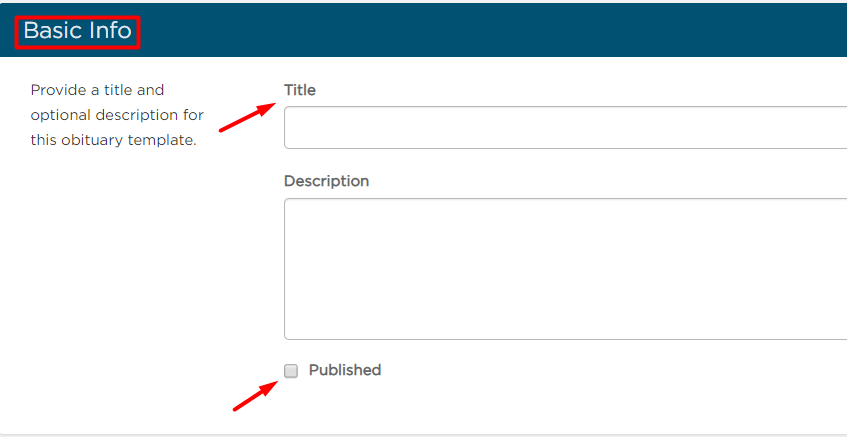 In the Template Design, fill in your Content and then Save.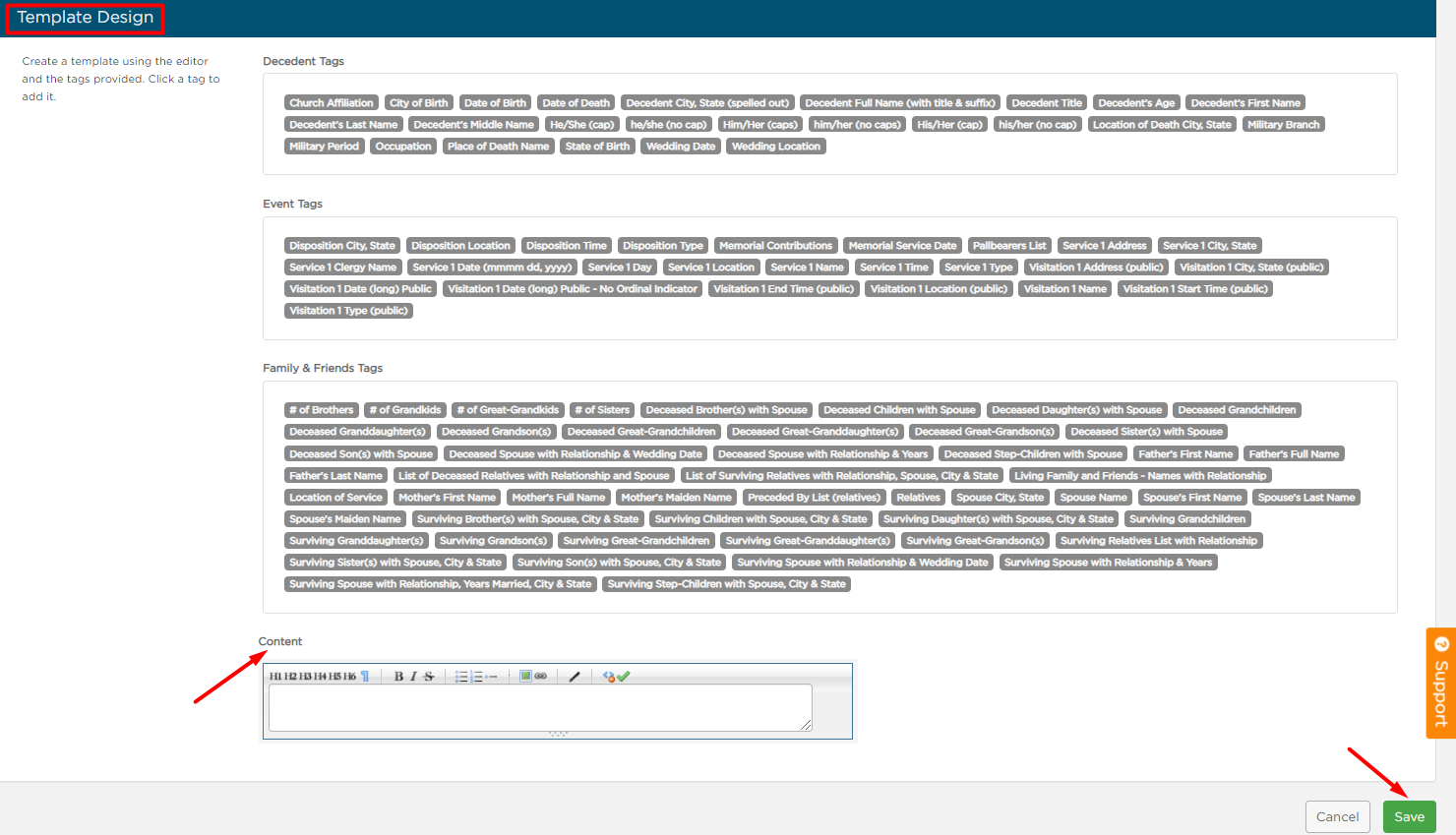 Note: Your new template will now be available to be selected in the drop-down in the Collaboration Center.
The Text Message Templates are very similar to the Email Templates and can be personalized to your organization and include an:
At-Need Text Message
Imminent-Need Text Message
These Text Messages are sent out to invite families and friends to the Collaboration Center.
For this feature to be seen within a case, you will need to click into the At-Need Text Message and Imminent-Need Text Message and turn it on under the Settings section.
Select the Branches you want to include from the drop-down and Save.

Self-Started Cases:
On this page, you will fill in a Key for At-Need and Imminent Need and Save.
This will appear as a link (ex: https://staginga-collaborate.passare.com/yourkeyhere) that can be shared with families to self-start a case through the Collaboration Center.
Appearance and Content:
Organization Defaults
Here you can upload a Header Image that will be visible across the top of the Collaboration Center. Personalize a Tag Line that will appear under your logo. Default Questions for the Loved One's Story will be available but can be edited or added from here.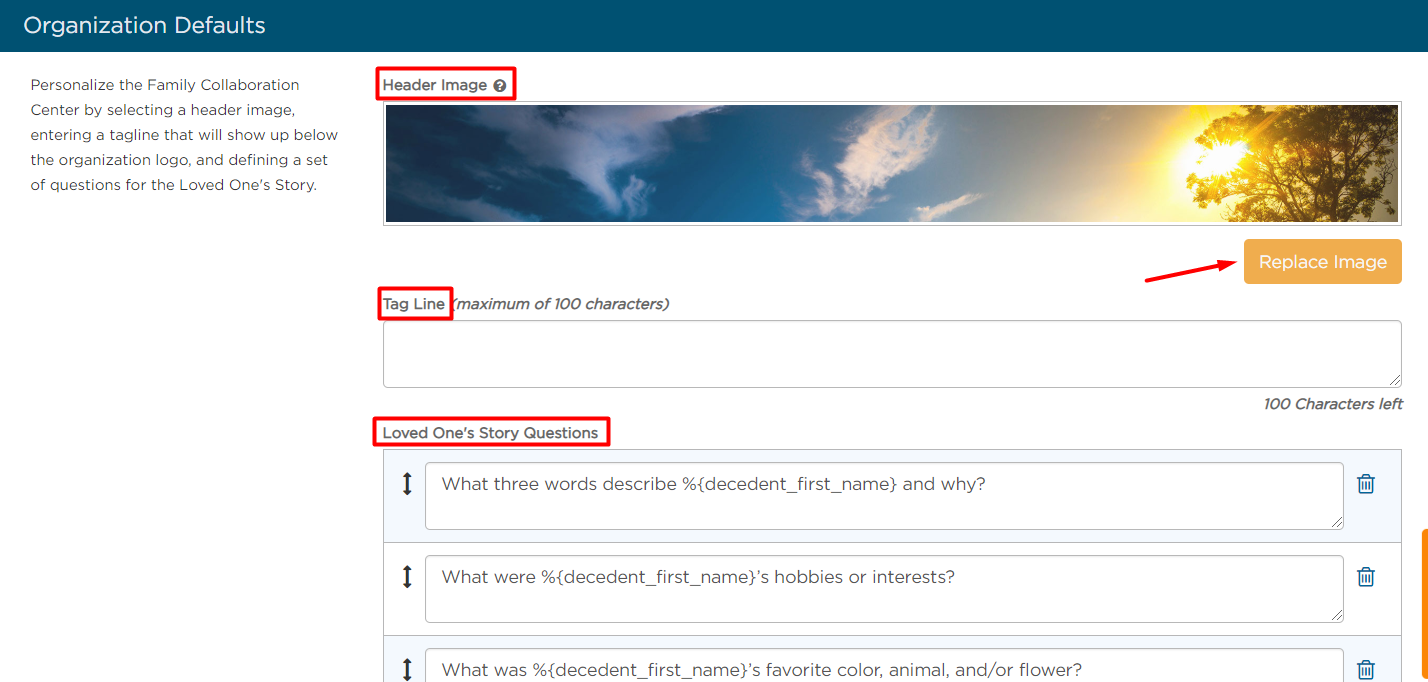 Note: If you have multiple branches, you can customize each branch with the above information under Branch Defaults.
Organization Defaults - Videos
We offer a selection of Collaboration Center videos or you can choose to upload your own Custom Videos.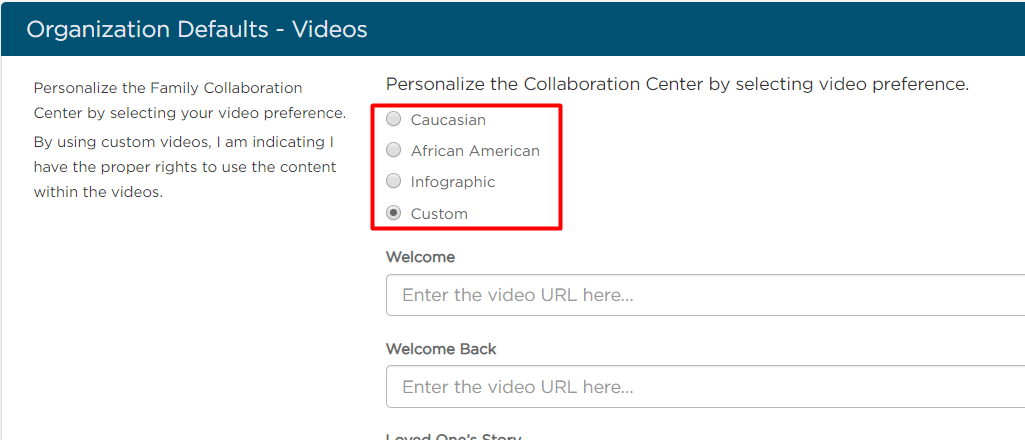 Note: If you have multiple branches, you can customize each branch with the above information under Branch Defaults - Videos.
Resources Page:
Provide valuable resources to the family, such as grief and healing articles, frequently asked questions about funerals, etc.

Need More Information?
Need Help? Email us at support@passare.com or call 1-800-692-5111!