Register for WePay through Passare! Allowing you to accept credit card and ACH payments anytime, anywhere, using any device.
Before setting up WePay we'll need to turn On the integration, send us an email at support@passare.com or call 1-800-692-5111!
Register with WePay:
To get started, be sure to have the following information available:
Bank Information:
Account #
Routing #
EIN
Debit/credit accounts (if different than normal payment & refund transactions)
Controller Information (likely the person listed on your tax forms):
Full Name
Home Address
SSN
Date of Birth
Email
Phone Number
Owner information (anyone who owns 25% or more of the business):
Business type (LLC,Corp)
Full Name
Home Address
SSN
Date of Birth
Email
Phone Number
WePay Setup:
Go to Admin > Organization.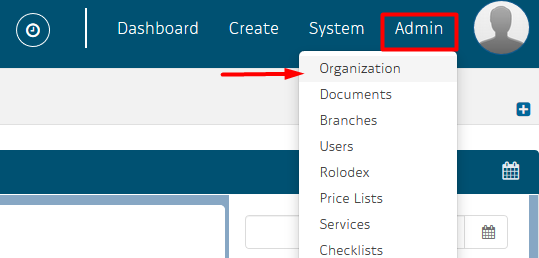 Select Integration Settings from the left sidebar, then select Add Integration on the top right, and choose WePay Payment Processing from the drop-down.

Set up your WePay account by adding an Account Name and Account Description. The Account Name you enter will be what shows up on your customer's credit card statement.
Most funeral homes use the name of their business in both fields. Once you're finished select Register with WePay. There is a 16 character limit.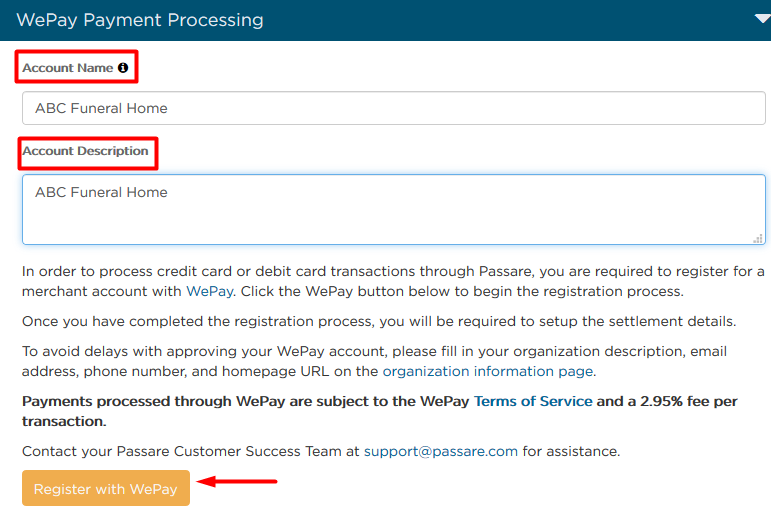 You'll be prompted to create a password for WePay.
Enter your First Name, Last Name, Email Address, and Password, check the box to agree to the Terms of Service, and Grant Access.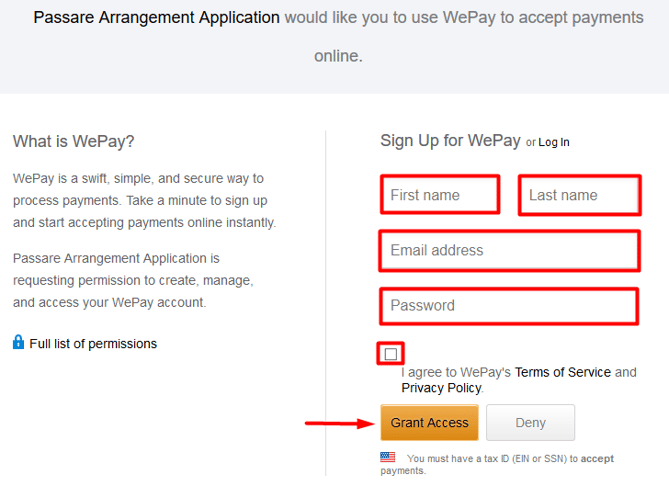 You should receive an email from WePay. Confirm your email to verify your email address.
You'll then be redirected back to the Passare Integrations page. A new option will now appear in your Passare system select Settlement Setup.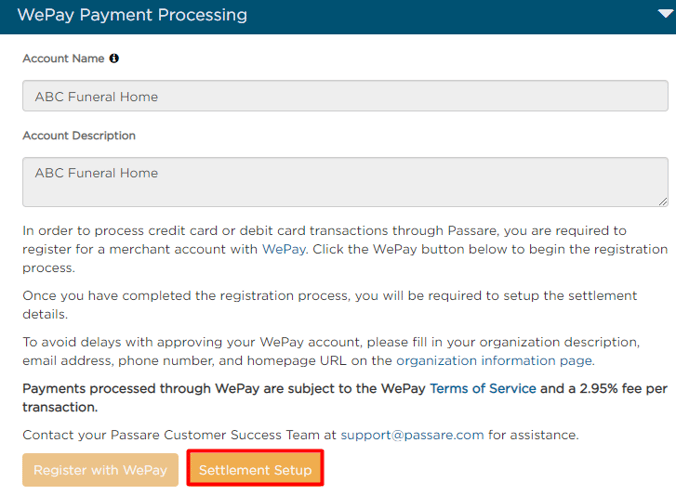 Select Business as the Entity Type. > Next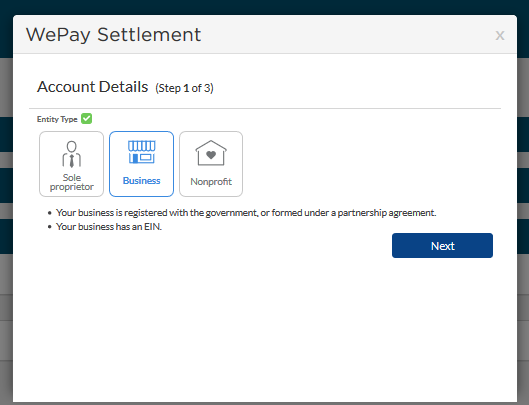 Then select your Business Type (Corporation, LLC, or Partnership), depending on how your business is set up.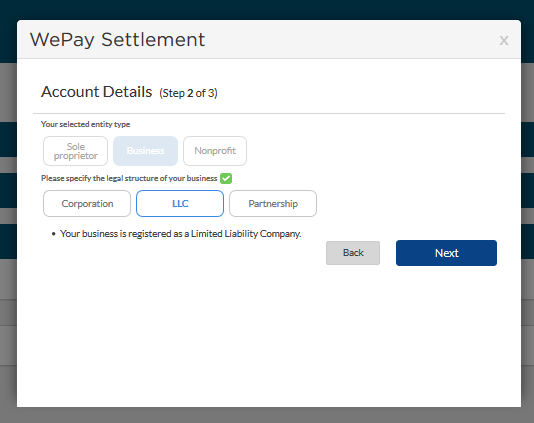 Choose Professional Services as your Industry Category.
Then choose Professional Services Not Elsewhere Classified as your Industry Type.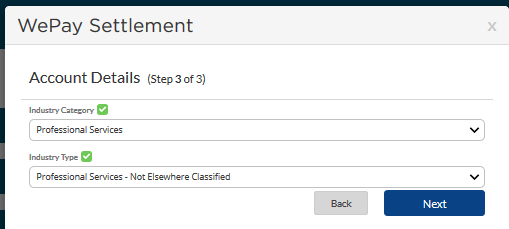 Enter your Business Legal Name, Phone Number, and EIN.
Put Funeral Service as your Business Description, and enter your Business Website information.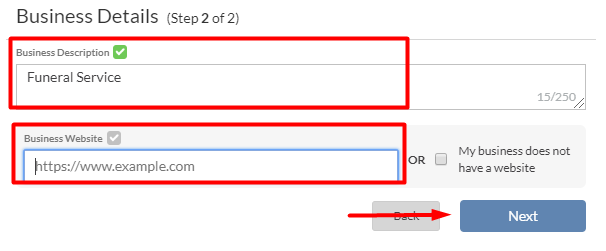 Enter Controller Details > Submit.

Enter your banking information to allow WePay to send payments to your account.
Add Bank > Finish.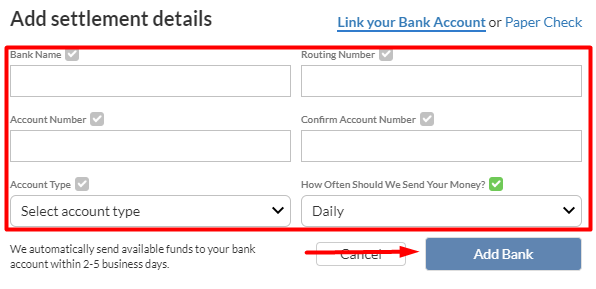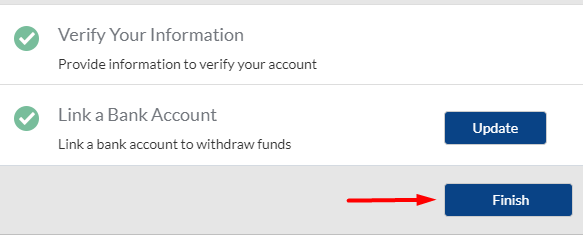 Setup Accounting Transactions:
Set up transaction types for WePay by selecting Admin > Accounting.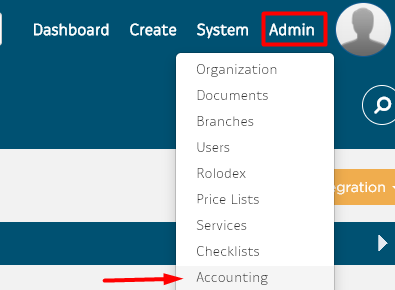 Select Add Transaction > WePay Payments (Credit/Debit Card).

Enter a Transaction Name (i.e. Online Payment). This is the payment type that will show in your cases. You can always go back and edit it later. Include a Transaction Description.
If you have your Chart of Accounts set up, make sure you enter the proper Debit Accounts and Credit Accounts so the transactions appear correctly in your accounting software. Press Save.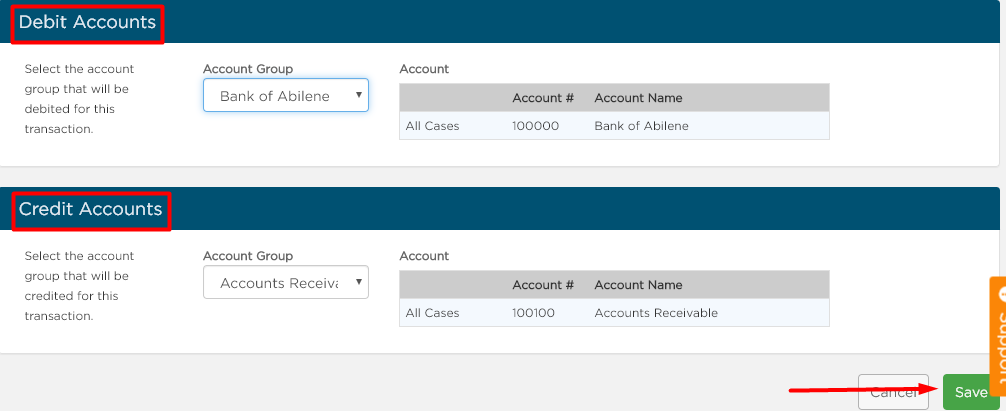 Go back to Add Transaction, and select WePay Refund.

Enter a different Transaction Name (i.e. Online Refund). This will be the payment type if a refund is required after a payment is made. Once again, select the corresponding Debit Accounts and Credit Accounts, if necessary.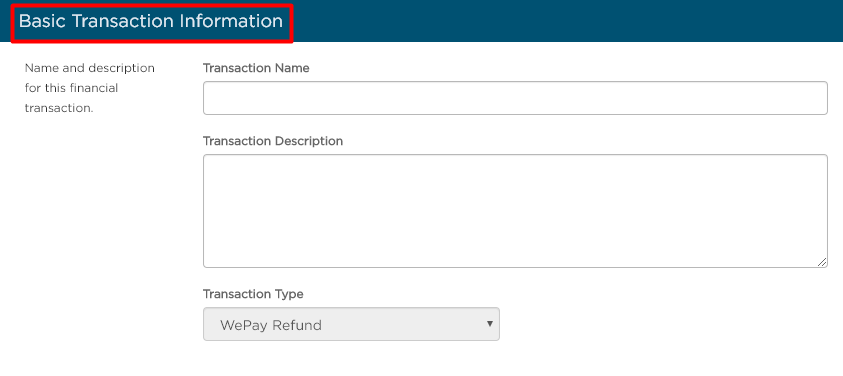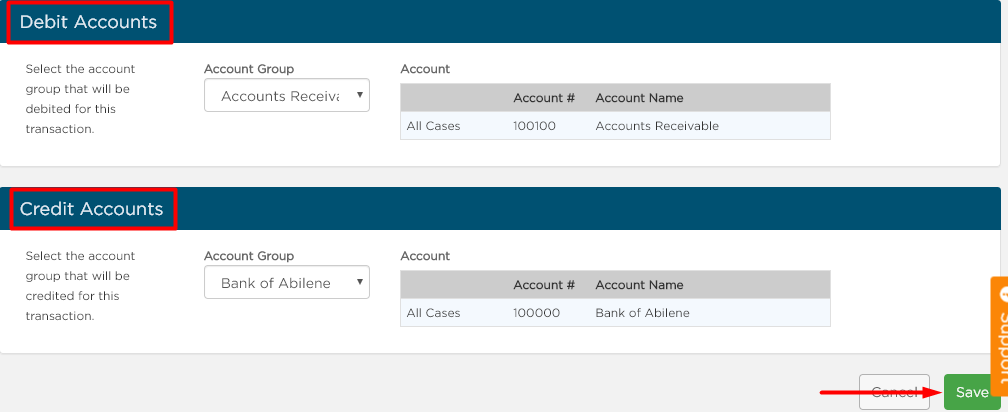 If you'd like the ability to process ACH payments, go to Add Transaction > WePay Payments (ACH), select your Debit and Credit Accounts > Save.
You are now set up to process credit or debit card payments, refunds, and ACH payments in a case!
All transactions are subject to WePay Terms of Service and a 2.95% fee per transaction, no matter the type. For questions about the WePay transaction process or the status of a transaction, visit the WePay Help Center.
Commonly Asked Questions:
When someone refunds an amount back to a customer, do they also get reimbursed on the 2.95% fee they were originally charged on the transaction?
When a full refund is issued to the payer, there are no fees charged to the customer. The fees are absorbed by WePay. Please be advised, partial refunds do not reverse a portion of the WePay fees that are initially charged when the payment is made. WePay fees are only reversed for full refunds.
Who pays the fee?
Most funeral homes absorb the fee for simplicity's sake. They'll just increase their Professional Services.
If you want to pass the exact fee to the family, you can add a discretionary item called Credit Card Processing Fee – 3.1%. You'll just have to figure 3.1% of the total amount of the contract each time, and then add that fee to the Goods and Services.
Need Additional Information?
Need Help? Email us at support@passare.com or call 1-800-692-5111!