Sign in to the Passare app quickly and securely with Face ID, passcode, or email & password.
Jump ahead to
There are three login options for Passare mobile: FaceID, Passcode and Email & password. The app will default you to email & password login until another option is configured.
FaceID
FaceID is a great option for anyone wanting a fast login on their personal device.
Set up FaceID
When you first download the Passare app, you will be prompted to set up Face ID (iPhone) or Face recognition (Android). If you're ready to use FaceID, select Yes.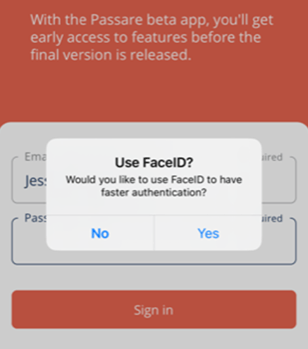 Skipped this step initially? That's okay! You can turn it on anytime in your app settings.
To do this, login with your Passare email & password.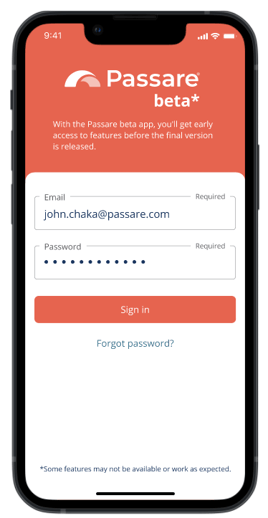 Select your profile picture in the top left. Then, select Security > FaceID.
Toggle on FaceID.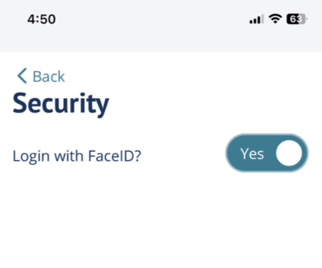 📱 FYI: If you have not previously used biometrics on the device, you may be prompted to set that up in your device settings first.
Log in with FaceID
Next time you open the app, your device will automatically scan your face and log you in.
If you have any issues, you can always bypass with your email & password or select Sign in with FaceID to trigger the scanning function again.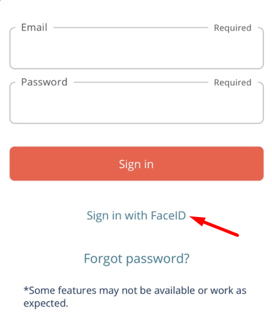 Passcode
Passcode login is ideal for users who share a device with their team, or for anyone who does not utilize FaceID but still wants a quick login option.
Set up Passcode
Login to the app with your email & password.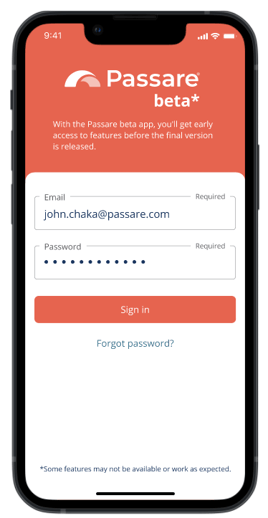 Select your profile picture in the top left. Then, select Security > Passcode.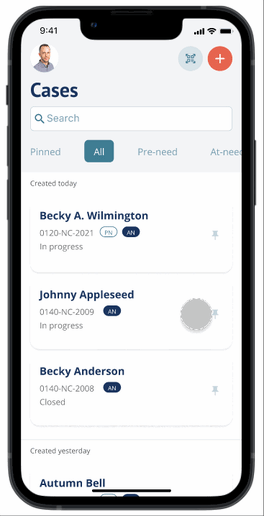 Create a 6-digit passcode and type it into the New field. Then, re-type it into the Confirm field.
📱 FYI: You cannot use sequential (123) or repeating (111) numbers in your passcode.
Once the passcode is entered, click Done. You will receive a confirmation message.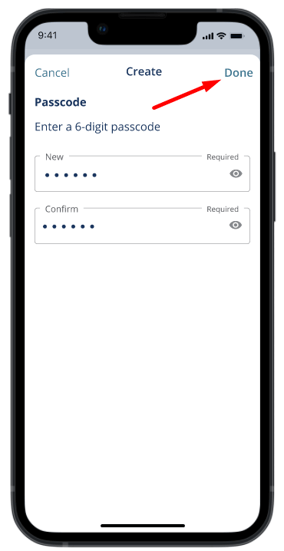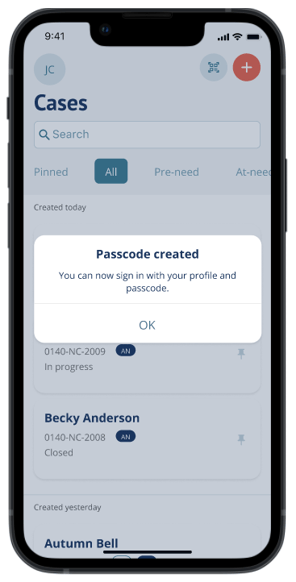 Click OK, then you will be prompted to login again with your new passcode.
📱 Do you share devices with your team? If you are sharing a device with your team, keep in mind that push notifications can only be enabled for one user at a time.
For example: If one user has enabled push notifications in their login, then another user enables it in theirs, it will be disabled for the first user.
Reset or disable passcode
To reset or disable your passcode, navigate back to Security > Passcode.
You can disable Passcode altogether by turning the toggle off or reset your passcode by typing in a new one. Click Done to save.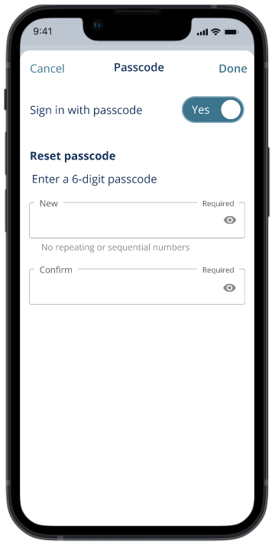 Email & Password
To sign in with email & password, enter in the credentials you use to sign into Passare.
Unless you turn on FaceID or Passcode, this will be the default sign in each time you enter the app.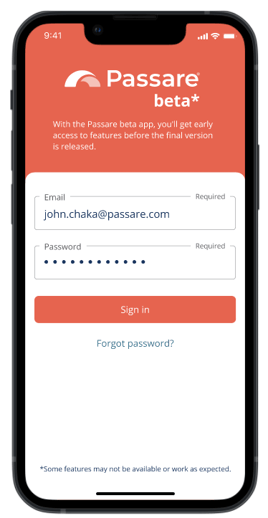 Forgot Password?
To reset your password, use the Forgot password link at the bottom of the sign in screen.
Enter your email and select Send me reset password instructions.
Update your password from the email.
Need more information?
Need Help? Email us at support@passare.com or call 1-800-692-5111.