Work smarter, not harder, with self-started cases. Let your families initiate the planning process directly from your website.
Jump ahead to:
Set up your self-started link
To begin using self-started cases, you will need to connect a funeral home specific link to your website.
🔗 Hold up! If you don't already have your self-started link, contact Passare Support at
1-800-692-5111 or support@passare.com, and we will provide it to you.
Your link will look something like this:
https://plan.passare.com/planner/create-account/funeralhomename
Once you have your self-started link, contact your website provider to add it to your website, either as a link, button, or dropdown option.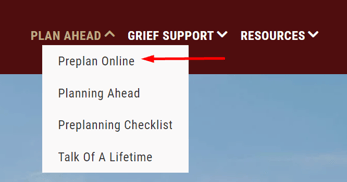 👀 Try this out: Add a QR code to your hospice brochures and embed this link on it. That way, families can easily scan the code and begin making arrangements.
Create a self-started case
When the family clicks the button or link on your website, they will be prompted to login to the Planning Center.
If they are brand new to the Planning Center, they will need to create an account. If they already have an account, they can select I already have an account.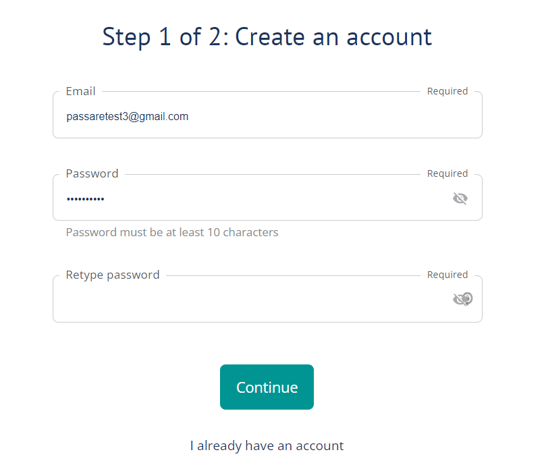 If the family is creating a new login, they will be asked to fill out first name, last name, and phone number. They will also want to indicate if they are planning for someone else.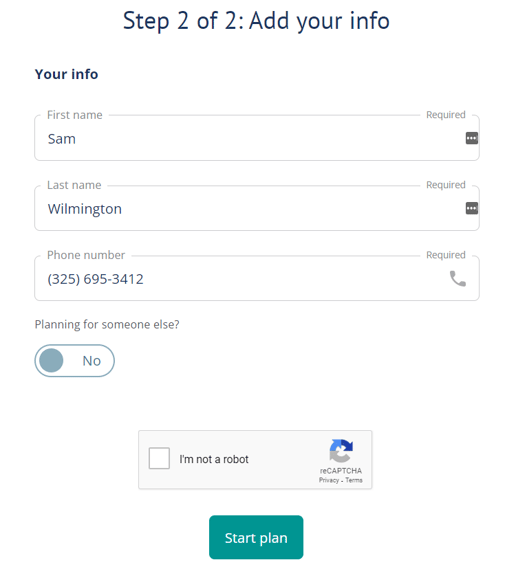 If they are planning for someone else, a second column will appear asking for Their info.
The Has a death occurred? dropdown will indicate if this is created as an at-need or imminent-need case.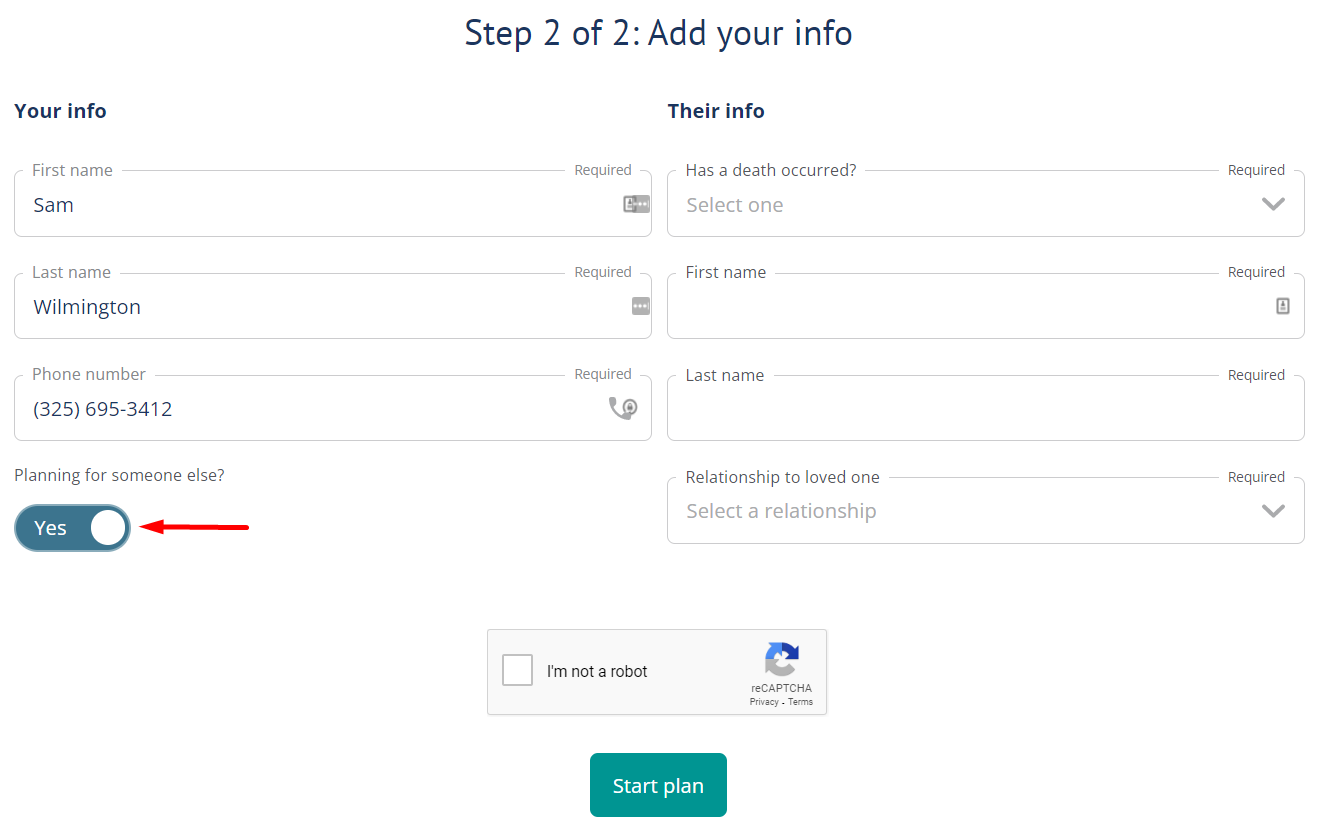 Click Start plan to begin. They will be taken to the Planning Center homepage of the case.
👀 Curious to learn more about the Planning Center? Check out this article.
Filter for self-started cases in Passare
Track which cases are created by families by creating a filtered tab.
First, go to your Case listing.
Make sure you are selected on the All Cases tab. Then, select Filter Cases.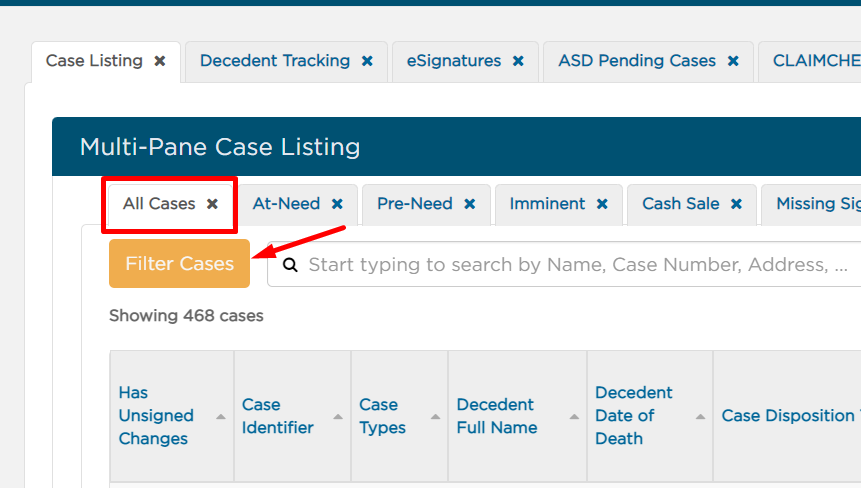 Under the Case origin dropdown, choose Self-started. Then, click Show in a new tab.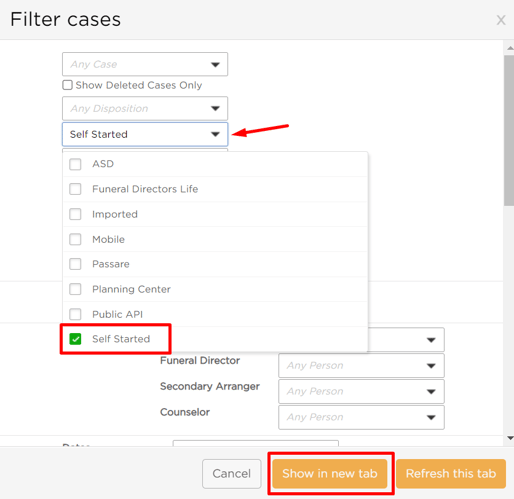 ⚠️ FYI: Self-started cases are created at the org level and will not initially specify a branch. We don't recommend filtering by branch for this tab.
This will bring all self-started cases into a New Search tab.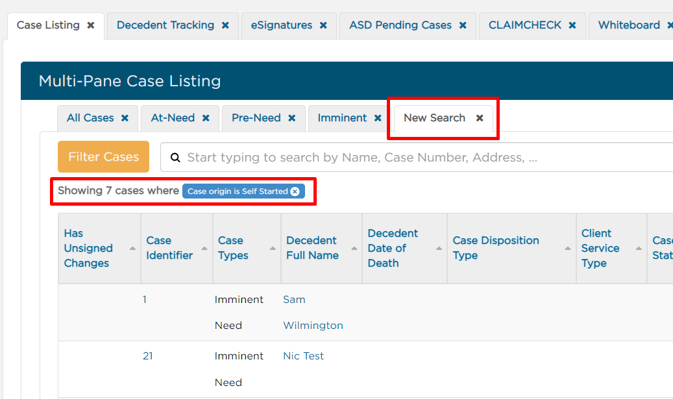 To save this view, click the Save button to the right, and name the tab. Save.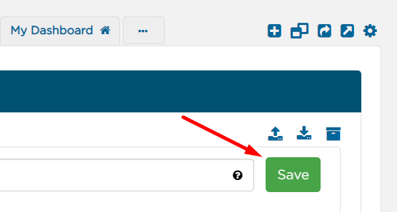 This tab will continue to update as more cases are created by your families.

Need more information?
Need help? Email us at support@passare.com or call 1-800-692-5111.